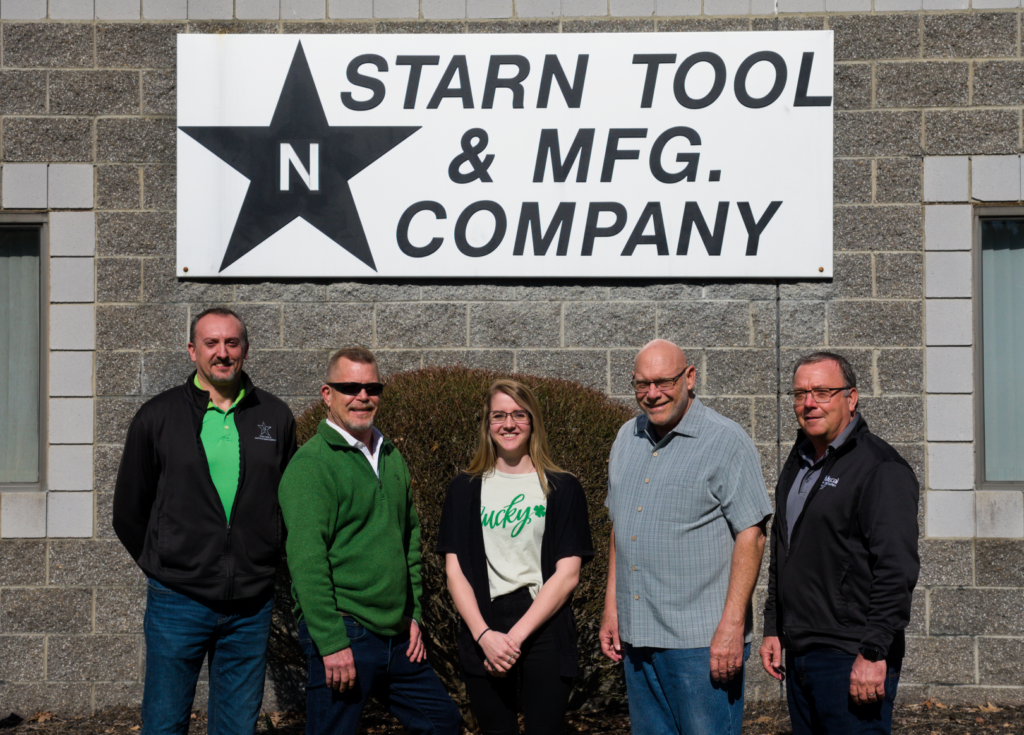 We're excited to announce the addition of Willow Peterman and Shawn Schmitz as partners of Starn Tool & Mfg.
"This supports our long-term goals of remaining a close-knit, family-oriented company." – Bill Starn, CEO
Willow has been with Starn for 9 years, beginning as a co-op student in her junior year of high school. She went through training in every department for the first 3 years, learning the shop floor and the basic functions of machines. In 2016 she moved into an administrative position and in 2017 took the place of our Office Manager of 48 years. Currently, Willow holds the position of Controller. Willow is also involved with various community organizations, working to promote the manufacturing industry to today's youth. She enjoys encouraging community collaboration to open opportunities for both young adults and employers. Willow married her husband Derek in 2017 and is the mother to two little girls, Kinley, age 3, and Karlee, age 2.
"I am excited and grateful for this opportunity and look forward to continuing the Starn Tool legacy of creating and maintaining a positive culture and experience for both our employees and customers." -Willow Peterman, Controller
Shawn's career with Starn began in 1998 as a co-op student in his senior year of high school. After 4 years of working his way thru all the various departments of Starn Tool & MFG, he was promoted to the position of Wire EDM supervisor at the age of 22. In 2012 he was promoted to Manufacturing Manager of Mecal by Starn and has held the position of General Manager at Starn Tool & MFG since 2018. Shawn is also continuing his father's legacy as president of W.C.J. Ranch, a nonprofit organization helping local disabled veterans enjoy the outdoors during all hunting seasons, and the proud father of 3 little girls, Anna, Lillian, and Lydia.
"I am truly thankful for every opportunity that has presented itself to me over the past 20 years and feel extremely blessed to be a partner in the Starn Tool family of companies. I look forward to continuing Starn Tool's legacy of loyalty with our employees and customers for generations to come." -Shawn Schmitz, General Manager