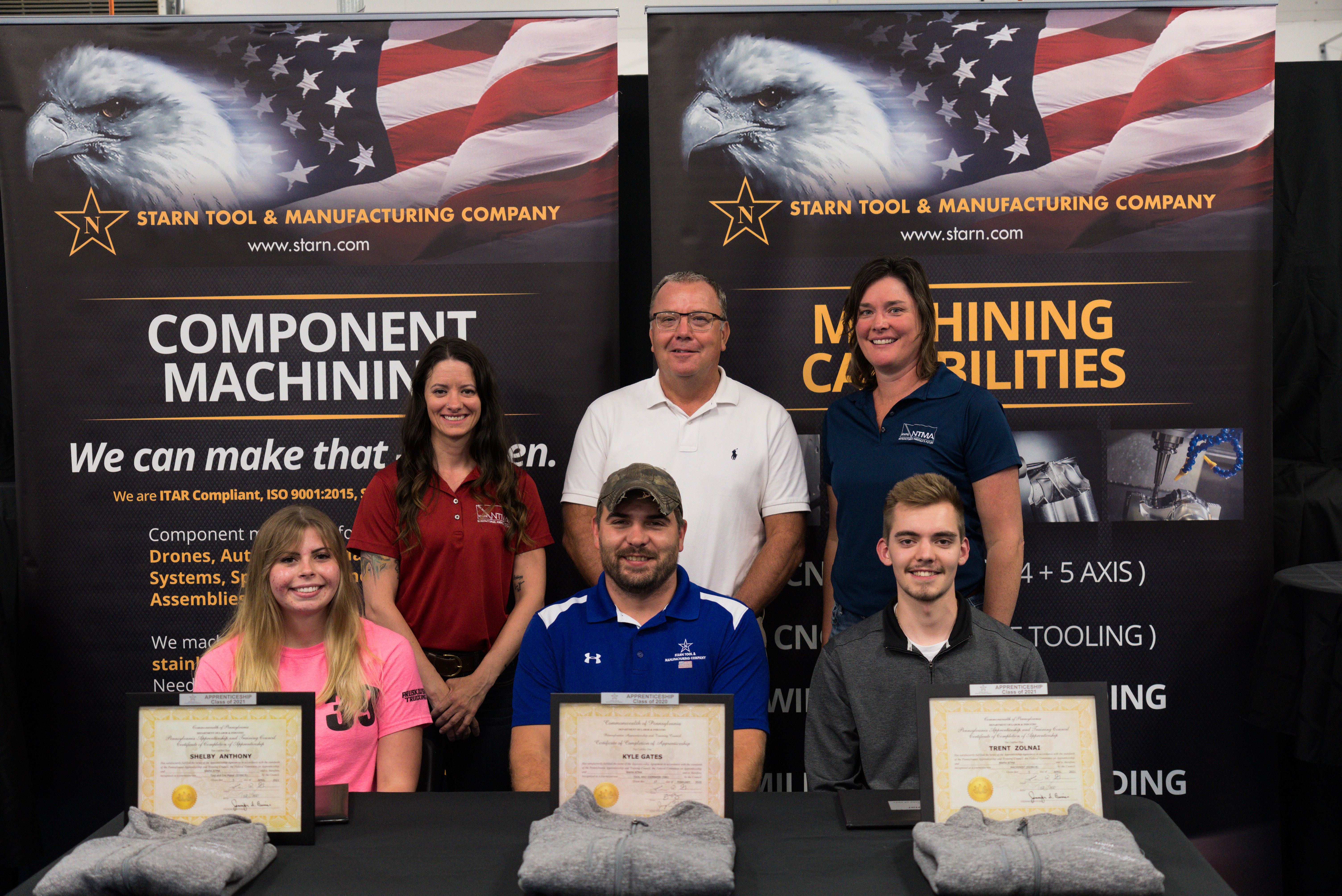 NTMA Northwestern PA Chapter Member Starn Tool Graduates Three Apprentices
It has been 20 years since Starn Tool & Manufacturing has graduated as an apprentice. That is not the case anymore though, as Starn celebrated the graduation of three apprentices last week: Shelby Anthony (Tool Maker), Kyle Gates (Tool Maker) and Trent Zolnai (CNC Machinist). "Apprenticeships are back just in time to help fill the gap of an aging workforce in the local manufacturing industry," said Greg Wasko, Executive Vice President of Starn Tool & Manufacturing and Trustee of Northwestern PA NTMA.
The NWPA chaptper and NTMA is the sponsor of two – state – approved group apprenticeship programs. This provides the opportunity for NTMA Member companies to train and certify Tool Maker or CNC Machinist apprentices through the Chapter's programs without the need to maintain individual apprenticeship programs. It's a simplified way to expedite apprenticeship training, and Starn did just that!
The Tool Maker and CNC Machinist programs require a minimum of 8,000 hours on-the-job training or equivalent NIMS (National Institute for Metalworking Skills) credentials; and a minimum of 576 related instruction hours. On-the-job training is conducted at NTMA Member companies that employ the apprentice, and the related instruction hours are completed through an online training program, NTMA-U. 12
The NWPA Chapter NTMA program standards were developed by the Chapter's Executive Director, Tami Adams, in 2016, with input from member companies. There are Apprenticeship Advisory Committees in place to periodically review and recommend improvements for the programs. A Mold Design apprenticeship program has also been submitted to the Apprenticeship Council of Pennsylvania and is pending approval.
Starn spearheaded the competency-based programs, being the first company to graduate apprentices using NIMS credentials. The graduates were all required to obtain a minimum of 12 NIMS credentials and the equivalent of at least 576 related instructional hours. They worked in multiple departments and were trained by multiple employees throughout the Starn Family of Companies. These apprentices went above and beyond completing more than the bare minimum. Kyle completed a total of 15 NIMS credentials and 5 NTMA-U courses along with his prior education to become the second graduate in the Tool Maker program.Trent was the first CNC Machinist program graduate, completing a total of 12 NIMS credentials and 19 NTMA-U courses (742 instructional hours).
Shelby was the first female graduate of the Tool Maker program and completed a total of 13 NIMS credentials and 19 NTMA-U courses (742 instructional hours). Trent and Shelby both started their careers at Starn Tool in 2017 following their junior year of high school. Attending the Crawford County Career and Technical Center Precision Machining program their Sophomore and Junior year and the Co-Op program their senior year; Trent and Shelby began full time following their high school graduation. Shelby is currently an important part of the CNC Mill Department and Trent holds a position in the Engineering Department. Kyle has also been a crucial part of the success of Starn Tool, starting part-time in 2016 in the CNC Lathe Department and currently holding the position of Quality Manager.
The NWPA NTMA Group Apprenticeship program has twelve active apprentices and has graduated a total of six: five Tool Makers and one CNC Machinist, since the inception of the program. Along with the three newly graduated apprentices, Starn Tool currently has two more active in the program, with intentions of continually enrolling more in the years to come. Starn is extremely proud of these apprentices and the work they put in and looks forward to watching them become leaders and mentors for the apprentices to come. "The Starn Family of employees are very proud of their accomplishments," said Greg. "They are an inspiring testimonial to the work ethic and determination of the new generation."
This article was originally printed in NTMA- The Record, November 2021. You can see the entire publication HERE